E Times Marketing Tool - Search Engine: Facilitator of E-Commerce
Nearly five years ago, when internet frenzy was at it's peak, no body had even dreamed about that the search engines could become the most powerful innovation in e-commerce. The profitable model of bidded ranking system had invented by Overture. Consulting firm Gartner estimated that, the new innovation of "bidded ranking" will bring in $4 billion to the several dominant market players in 2005. Almost all kinds of online businesses are trying to incorporate this new tool.
iRsearch's market research data shows, the size of search marketing reached $152 million in China with annual growth rate of 81%. In the next few year, the annual growth rate of paid search in China can be as high as 66% and reach $285 million in 2006. Baidu is the current market leader in China while more companies are coming out with similar services.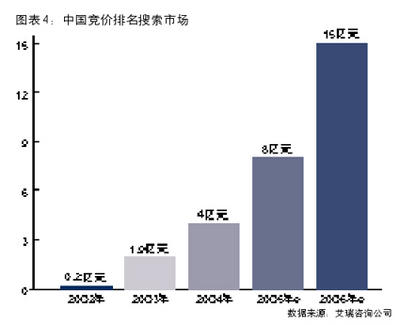 Fig. 4 shows market size of paid search . Units are in 10,000 yuan or equivalent of $0.012 billion dollars. The 2004 data came in as about $50 million. Projection for 2005 is $98 million, and for 2006 is $185 million, in US dollars.
Fig. 5 shows market shares from the major players in China in 2004. Baidu came in with 50.14%, Google with 24.1%, while Yahoo with a mere 2%.
see
list of Baidu's customers
From Invasive Marketing to Permissive Marketing
From the famous Wallstreet analyst Safa Rashtchy's comments in a research report focusing on consumption habits of Beijing's youth group: In the US, Google is people's landing site on the web almost everyday; but in China, most web surfers choose Baidu. Google only ranked number two. The habit of usage and loyalty formed over a long period is no longer easy to change. Though the competition is fierce, the landscape will be hardly changed in a short time.
Different from traditional push marketing, bidded ranking service is permissive. Users usually come voluntarily. And there is better acceptance for both buyers and sellers. Bidded ranking service bundles advertisements with search results. Though it is still a form of advertising, the so called "sponsored search" closes the gap between online advertising and online commerce. Paid search customers only pay when there is a clickthrough which results in a visit of their websites, so it's a fee of "linking". Through surveillance of the conversion rate of these "links", it is possible to follow on how much commerce activities created by these new web channels.
According to Benfu Lu, Associate Dean of Graduate School of Chinese Academy, applying a domain and build a web site is the first step for an online business. To bring in new customers, it must use a second step, that is how to broad the reach of the web site to let people know the existance of the site. In this stage, the fastest and cheapest way is to join the search engines. Let the users find your sites through searches, the results are usually the best.
In the US, more than 60% businesses are using bidded ranking system. In China, besides Baidu, Sina, Netease, Tom, 3721(bought by Yahoo), 21CN, etc have also joined the horse race of providing paid search. These firms are using different service models. Most are using fixed-ranking, paid search, and bundled advertisings(old goto.com model). Of course, there are relatively high barriers in technology, management, popularity, as well as strengh in channel sales for paid search ranking services.
E-commerce Platform for Small and Medium Businesses
It is because the characteristics of pin-pointing, "big gain with small cost", the bidded ranking system has become the best platform for online businesses from small and medium businesses. Recent data from CNNIC shows, 82.2% of net users reached new web sites through search engines. "Bidded ranking" is cheap with high quality since most time it only costs 3 to 4 cents to bring a visitor. Also, you pay only when there is a visit. No need to pay if there is no clickthroughs. To reach ideal market coverage, traditional advertising and marketing activities can cost more than 10 times as much but with less and slower impact. So, search engines have the unique advantages. Considering both the low cost and highly effective results, the flexibility, as well as easy management and analyzing results, bidded ranking is becoming the first choice of online marketing for more and more businesses.
According to iResearch's data, there were only 70,000 businesses in China used search engine technology as a way to expand rearch in 2001. As the internet growing fast, more and more businesses are paying greater attention to search engines as a bridge connecting buisnesses and consumers. More and more are choosing search engine as business marketing tool. The number of businesses using paid search will continue to grow and estimated to reach 640,000 by 2006. By 2008, there will be 2.8% of businesses using bidded ranking service as a marketing tool. (Fig. 6)
Since Baidu started the service model in Oct. 2001, It spreaded quickly from region to region and industry to industry among small and medium businesses. The direct impact to business overwhelmed the traditional advertising. Business users can effectively increase their traffic flow through the bidded ranking, thus increase the customer reach to the potential population with higher tendency of purchasing. Even many other specilized e-commerce platforms such as Alibaba, are purchasing large amount of keywords from Baidu to be ranked. And they have become Baidu's loyal customers.
As the fast maturation of China's internet, especially the wide spread of online sales through search engines, more and more businesses are tasting the fruits of "paying according to results" kind of online marketing services first provided by Baidu. More and more business in China have learned online sales are no longer just building web sites or purchasing online sales packages, but to really gain more potential customers from internet, and to increase their revenue in the end. Business purchasing of paid search ranking is also moving away from simple "image enhancement", to more on "product purchasing guide" and "marketing information enhancement" (Fig. 7)
Fig.6 Changes in number of business using paid searches(numbers is in 10,000 in the fig.)
2001 - 70,000; 2002 - 140,000; 2003 - 260,000; 2004 - 360,000; 2005e - 490,000; 2006e - 640,000
Fig.7 Categories of usage of paid search
" image enhancement" - 72.2%; "product information" - 67.0%; "purchasing guidance" - 50.4%; " marketing information" - 46.1%; "bidding invitations" - 30.4%.
Case Study 1: 4 cents brought in a $3 million deal
In Mar. 2003, when an internet user who wanted to buy Bentleys entered the words such as "Bentley" or "Bentley cars", the resaler with the best marketing sense won the deal. Since they chose to use bidded ranking service, it came out on top of Baidu's search results. The user entered their web site, found out detailed information, then contacted them, sent the order, and sealed the deal.
It reported that the deal had a worth of $3 million. Since it used a service model based on clickthroughs, one visit only costed 4 cents.
Case Study 2: Haoyoujia(best of best) Chocolate is a B2C online gift store. It sells several brand named chocolate and also fresh flowers, cakes and decorations. From the begining of 2004, their sales are slowing down due to increased competitions. To solidify their lead position on gifts sales, Haoyoujia decided to increase their sales through enhanced marketing effort.
In the second half of 2004, Haoyoujia chose Baidu's bidded ranking service. They registered 370 related keywords mainly the names of their gift products and the rest are common terms related to gift sales. In less than two weeks, as many as 80 people per day have reached Haoyoujia through search engines. They either called or faxed or emailed to inquire about the products. Service people's instant messenger QQ started to ring constantly since then and all of them are from customers to inquire about products. The paid search ranking service are not only bringing in inquiring customers, it is also bringing in about a dozne orders each day. Most importantly, most of these are new customers.
source: part of "E times - Marketing Proposal" from
Successful Marketing(original in Chinese)